Lincoln Park Zoo
Sometimes it is quite a challenge to create a compelling image of animals and other attractions at a zoo. The bars, the other visitors, various debris lead to distracting elements of making the best images. Your Digital Photo Academy instructor will offer tips on playing the waiting game to get photographs that best reflect a natural habitat. There are also composition techniques and selection of lenses that result in animals in action, at rest and play in the water or on land. And at the zoo the animals are not the only attraction. Learn to capture environmental portraits of flowers and fauna as well as the vendors, other visitors and the architecture of the facility itself.
There is a public transit stop on Stockton drive immediately outside the West Main gate to the zoo.
It is very near Stockton Drive and Webster. It is easy to find and is a nice quiet place to assemble and talk before we actually start.
DIRECTIONS
Get to the Zoo Using Public Transportation
Lincoln Park Zoo is accessible by a number of public-transportation options.
To learn more, call 312-836-7000 or use the CTA's trip-planner.
BUSES:
#151 and #156 stop at the zoo's West Gate (Stockton & Webster)
These other two are about a 1/2 block west of the Zoo:
#22 stops near the zoo's West Gate (exit at Clark & Webster)
#36 stops near the zoo's West Gate (exit at Clark & Webster)
TRAINS:
The Brown line and Purple line stop at the Armitage station, which is about one mile west of the zoo.
If students drive there is a paid parking lot outside of the East gate on Cannon Drive and it is an easy walk across the Zoo to the West Entrance. It is pricy by Chicago standards $24.00 for the day.
Call Digital Photo Academy at 1 877 372 2231. Lots of people seem to hang up if our welcome recording comes on instead of a live voice, but we promise to return your message within a day or two if you leave one with your name and number.  It would be even better if you included your e mail address as well as the date and city of the class you are considering.  If leaving a voice mail message is not your thing, please email us at DPAbooking@digitalphotoacademy.com or Richard@digitalphotoacademy.com.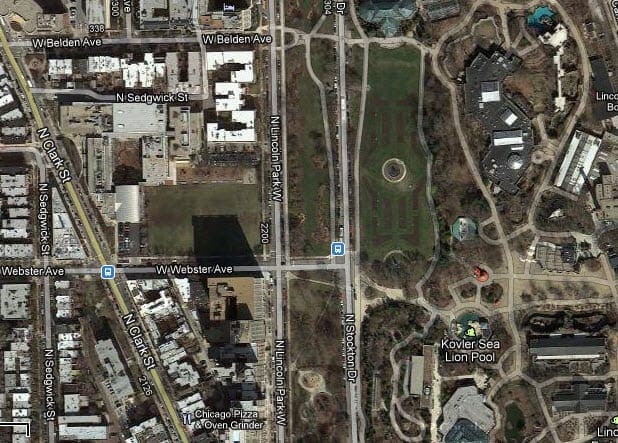 Stockton and Webster
Chicago, IL 60614
http://www.lpzoo.org