Photography Lighting Tips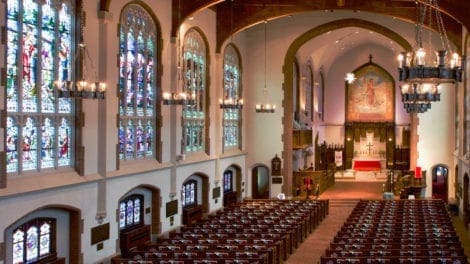 Pro Shooter Ken Ross Critiques Cindy Spicer's Images Hi Cindy, I wanted to take some time to go over your images and give you as much specific feedback as I could – drives me crazy when all I get from a critique is "nice" or "I like that" – doesn't help me get better and I try not to do the same thing to my students  I'll also include an example adjustment of your original image, just to illustrate my comments – it's art so remember that my comments are just my own perspective and opinions; you have your own story to tell in your own way!   I love the angle of this shot for expressing the grandeur of the sanctuary – it really helps "set the table" for this set of images and gives the viewer a sense of perspective when their viewing the other images. There are two things that I'd want to do in order to improve this a little more; correct the perspective skew and the white balance. The skew is a natural side effect of lens distortion of course but when you're shooting architectural subjects, it's really important to make sure the walls at straight. Fortunately, Adobe Lightroom has a feature that makes this sort of thing super easy to fix! Also, knowing that you'll have this sort of correction to do with architectural images, be sure to always shoot "wider" than you really want for your composition; straightening out the walls will result in cropping off some detail on the edges (the top left & right in particular for this image). For the color balance, you'll find scenes like this are very difficult for the "auto" white balance to deal with; there are a lot of different light sources in the scene and lots of colored light too. The camera does the best it can but just doesn't have a good reference. There are a number of ways to you can solve for this; the easiest is to make note of a white or "neutral gray" area in the scene that you can use for a point of reference; as long as you are shooting in RAW, you can use the White Balance Selector Tool in Lightroom to select that white/gray area and it will adjust all the colors in the image to correct them. If you're in a place where you don't see a good candidate (and it can be something like a white plastic bag, a gray sidewalk, etc.), just drop a blank white sheet of paper in the scene where it's being hit with "representative light" and use that as your reference; you can take a second shot without the paper there and, again in Lightroom, you can copy the white balance adjustment from your paper reference to your other image (select both images while in the Develop tab, click the Sync button and select just the White Balance adjustment to copy). Since the samples you sent me were JPG files I couldn't do a true White Balance correction (you need RAW for that) but Lightroom tries really hard to re-tint a JPG to get close so it's representative of what you could do with your original image (but you can definitely do a better job!). Likewise, Lightroom does a better job of correcting lens distortion if it knows the make and model of the camera and lens used; it can usually read that from the original image meta data but that's often stripped from JPGs (and for some cameras you may need to download additional profiles if it doesn't know them automatically). Love the high angle of this shot – it's more dynamic than the first image and less of a literal expression of what the sanctuary looks like, but is more exciting due to the perspective. Here again we have some alignment/skew correction to do as well as white balance (although the camera is doing a better job this time). Other small adjustments include increasing the exposure, contrast and a bit of Clarity (helps pop textures in these sorts of setting but be careful of using it with people in the scene as it can make their skin look haggard). I remember working with you on this composition and am really pleased with how well it turned out – I think the angles work well and framing the pipes between the stain glass windows gives it a strong sense of place. I made a few adjustments here to boost contrast and add a bit of Clarity, but didn't want to brighten the image too much more and lose the mood (or blow out the windows). I did feel like the pipes needed to be enhanced though because they're a key element in your story; I used the Adjustment Brush in Lightroom to just "pain on" more exposure for the areas of the pipes I wanted to emphasize and used the pipes themselves as a White Balance adjustment reference (they're gray). Really love how this turned out – I told you you'd get it!! This is exactly what we talked about with this technique; get enough exposure at one spot to cement the details (especially her face) and then pull back on the zoom to create that dynamic effect in-camera. Great job!! My only contribution here is to boost contrast and add Clarity to help the image pop and create more apparent sharpness on the base image (see how her face looks "sharper"? That's due to Clarity). This is another outstanding image. I really love how you saw this possibility while we were walking out and insisted on "working the scene" to make this happen. In particular, I liked how deliberate you were in your framing and, as a big fan of high-contrast B&W images myself, I love the mood of this image. Here again I've made just a few small changes to take an already great image up a notch; exposure has been increased slightly to get more detail on the foreground element, I've rotated the image slightly to straighten the window and added Clarity to bring out the texture in the floor. Lastly, I used the Lightroom Adjustment Brush to paint in some "drama" on the top three window panes, adding a bit of exposure and Clarity while making the dark areas just a wee bit darker. I'm going to be honest here; this isn't a great composition. The exposure is good and the white balance is reasonably good, but in terms of presenting a subject or telling a story I feel this fails to hit the mark. I know that you were drawn to that amazing keyboard, a subject that excited you and was frankly challenging to capture (you knew what all the buttons did but it might as well have been the space shuttle cockpit for me!). Looking at this image as presented, it appears that the subject is the decorative carving at the end of the pew (rather than the keyboard) but the keyboard in the background is too distracting (and the top of the carving is just being clipped by the top of the frame). Lastly, the railing at the edge of the pew is acting like a "leading line" – pulling the viewer out of the image instead of into it. Now, there are a number of things we might do differently if we had it to do over again (hindsight is awesome) but what we can do to improve the image we have at hand? Well, let's assume the subject is the carving. Let's take advantage of that leading line like we talked about in class – use that to help direct the viewer to our subject. How? We'll flip the image so that line is coming in on the left . Next, we need to create more emphasis on our subject than the background; we can do that by using the Adjustment Brush in Lightroom to paint the areas we want to de-emphasize, making it darker (less exposure) and less distinct (lower the Sharpness and Clarity). Then, create a new brush and paint a little added exposure and Clarity on the details on the face of the carving. Lastly, we crop the image in a bit tighter on the main carving and use the Post-Crop Vignetting to darken the edges of the image, further deemphasizing the windows and back wall. There's a lot to like in this image – the atmosphere of the solitary "parishioner", the dramatic lighting from the windows. However, when we have a person in the image then the story really is about them and I feel like the image is too dark with too many bright windows and our subject just gets lost. What I'd recommend in this case is to re-crop the image to make it more about the subject and then use the Adjustment Brush to paint on just a bit of extra exposure on our subject's face and arms, just enough to lift them out of the shadows but not so much as to make them look "flashed" or unnaturally lit. I didn't want to do anything to the overall exposure since that would change the mood too much. Another great angle to explore in this venue – really love how you've picked up the play of light across the floor and controlled the exposure so that the massive stained glass at the back of the sanctuary wasn't blown out. With this image we have very little to correct that we haven't looked at earlier – some White Balance and perspective skew adjustment is all we need, as well as a smidge of Contrast to make it pop. I hope you found these comments and examples helpful and thanks again for coming to my class and for sharing your images with us! Ken mailto:ken@kennethrossphotography.com http://www.kennethrossphotography.com/
---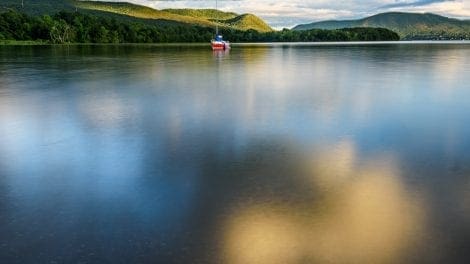 Rule of Thirds Approach of Composition As Well As The Camera Control of Aperture Priority Greg Miller, one of the Digital Photo Academy instructors in the Hudson Valley chose to create the illusion that the sail boat, which was actually about 150 feet from the shore, was much further away and created an ethereal peaceful scene using the Rule of Thirds approach of composition as well as the camera control of Aperture Priority. But remember to move around a lot because there is always another compelling image in every setting. For example, student William Wilmot bided his time and focused closer on the boat, snapping the shutter just as the sun quickly winked at it. Additionally, he framed his main subject with the leaves in the foreground.
---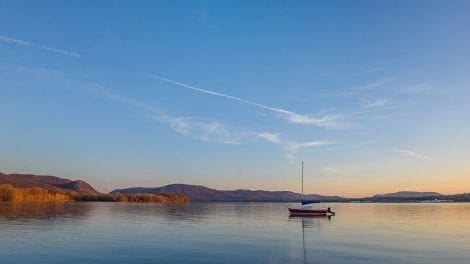 That photo was taken during the Sunday workshop and Long Dock Park. It was just a grab shot since I rarely shoot during a workshop. 24mm on full frame Nikon D810 camera, 0.6 second exposure at F18. Shutter speed was important to render the water texture just right, so shutter speed of 0.6 seconds was chosen, then F18 was chosen to render a good exposure. Exposure was intentionally 1 stop less than the meter reading. The camera meter wants to render the scene a middle gray, but at this time of day, the scene is darker than middle gray. Using the exposure meter's setting would have caused the photo to be too bright. Story 1: The chap who sails this boat swims to and from it from shore. Note that the water temperature on April is still quite chilly. Story 2: Most photographers go to Long Dock Park at low tide to shoot the pilings in the river that are visible at low tide. This beautiful view south towards the Hudson Highlands near high tide is rarely photographed.
---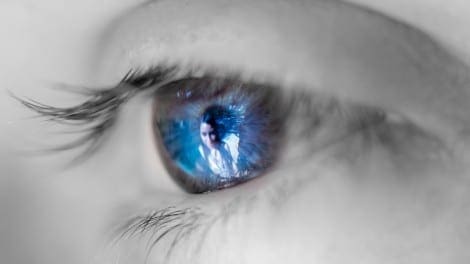 BEAUTY IN THE EYE-Orlando Camera Club had a "Creative Macro" competition with results being presented this past Monday and David Montague walked away with the first place in this particular category. Says he, "I shoot with a Nikon D750 and used my 105mm macro lens.  I placed my son in a chair, underneath the lanai shade, and his wife more in the sun so she would show up better within his eye. Placed the camera on a tripod and positioned it within a few inches of his eye. Took quite a few shots to get the focus just right. As your aware, using a macro lens that tight is tough to get a sharp image unless everything is perfectly still."
---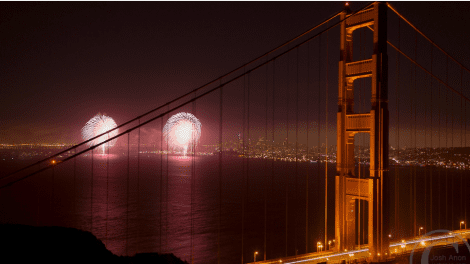 From Josh Anon/ DPA instructor in San Francisco To view more of his images please visit  http://digitalphotoacademy.com/portfolio/josh-anon/ I am a big believer in pre-visualizing photos and then executing them.  Even if your pre-visualization isn't perfect, it gives you purpose and lets you actively plan for a shot instead of reacting to what's around you.  In this case, I knew that for the fourth of July, San Francisco would have a big fireworks show downtown, and the forecast was (unusually) fog-free.  That meant I had a chance to create a unique image of San Francisco, with the Golden Gate Bridge (the most distinctive icon that immediately screams "San Francisco" to a viewer) and fireworks.  I knew of a good spot in the Marin headlands and arrived hours in advance, expecting a crowd and wanting a parking spot.  A lot of photography involves patience!  I framed this shot up before the fireworks started balancing where the bridge is and where I roughly estimated the fireworks would be, based on what I saw in the paper.  To shoot, I put my camera in bulb mode, held a piece of cardboard in front of the lens between fireworks bursts, and exposed each image for 2-3 firework bursts.  While the fireworks are a tad over-exposed, I still like the shot because of how the intense brightness and shapes from the falling embers contrasts with the darkness in the rest of the frame, just like when you see fireworks with your naked eye. Canon EOS 1Ds with Canon EF 16-35 f/2.8L at 35mm on a tripod.  f/5.6, 8 sec, ISO 200.
---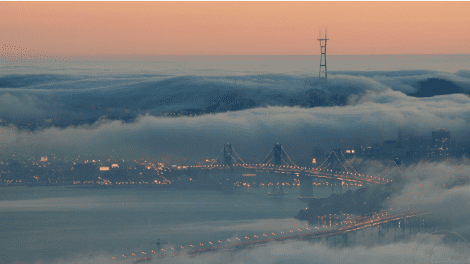 From Josh Anon/ DPA instructor in San Francisco To view more of his images please visit http://digitalphotoacademy.com/portfolio/josh-anon/ Even though Mark Twain never actually said the coldest winter he'd ever had was a summer in San Francisco, the near-daily fog does make for some cold summers.  And some beautiful pictures!  The bay area's geography is also unique in that there are hills in the east bay, and the hills are often a demarcation line for the fog.  Depending on the weather conditions, there are days where a low, thick bank of fog rolls into the bay but below the top of the hills.  This makes it so that you can get a great vantage point, looking across the city and seeing where the fog is.  I was in the hills on one such day, guessing the weather conditions would be correct, but I arrived before sunset and before I could see for sure what the fog was doing.  As the sun started to set, the fog moved across the bay.  A long lens on a tripod (roughly 400mm) let me isolate the features that make the scene say "San Francisco," that is the bay bridge, Sutro tower, and the downtown skyline.  Even though the fog covers most of them, you still have a sense of geography.  Waiting for the lights to come on also added a nice element to the shot, a bit of warmth and brightness contrasting with the fog. Canon EOS 1Ds with Canon EF 100-400mm f/4.5-5.6L IS on a tripod at 400mm.  f/16, 1.6 sec, ISO 100, -2/3 stops in evaluative metering.
---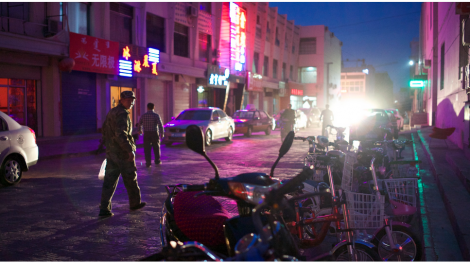 From Josh Anon/ DPA instructor in San Francisco To view more of his images please visit http://digitalphotoacademy.com/portfolio/josh-anon/ I often carry a Sony RX1 with me, as it's got great image quality in a very compact form factor.  I don't always want to carry a big DSLR.  Especially on photo trips, when I'm in a different environment, even when I'm not shooting my main subjects, I often see opportunities for interesting photos that make me want a camera.  This street scene is one such example, as I saw it while leaving dinner in China, near Mongolia one evening.  I liked the row of bikes and the people walking, as it captured how the town felt.  The converging lines into the distance added depth and visual intensity, and the warm colors on the signs provided a nice balance to the cool shadows.  And as I framed up a shot, I saw a car starting to drive down the street.  I quickly focused and shot a burst, getting the car in different positions.  It was sheer luck that this one guy looked back at me (it's possible I swore when I saw the car and rushed to get the shot setup), creating a nice connection between the photo and the viewer. Sony RX1 at 35mm, f/2, 1/80 sec, ISO 6400
---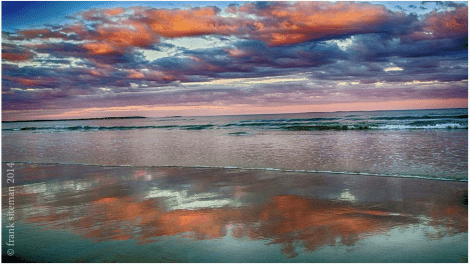 From Frank Siteman/ DPA instructor in Boston To view more of his images please visit  http://digitalphotoacademy.com/portfolio/frank-siteman/ Symmetry, timing and simplicity are the backbone of many stand-out images. This photo was taken while on a casual, end of day walk along the shoreline at Old Orchard Beach in Ogunquit, Maine.  As the sun was setting behind me, only the clouds were being directly illuminated, creating a scene with  an intense, warm-cool  (yellow/blue) color contrast.  Adding to this, was the reflection of the sky on the mirror-like, smooth sand beach, that appeared with each retreating wave, making the timing of the exposure an important factor.  Choosing a wide angle allowed for the inclusion of  the most real estate (keeping both the actual clouds and their reflections on the sand) and enabled me to work with a slowish shutter speed of a 1/15th sec with an aperture  of  f/8.0, holding focus from the foreground to the horizon. This was a situation where breaking the "rule of thirds" allowed for a more dynamic image.   Camera was Canon 5D, ISO 200 and using a 24mm focal length with a 24-105 IS lens.
---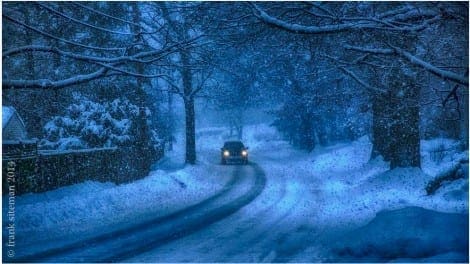 From Frank Siteman/ DPA instructor in Boston To view more of his images please visit  http://digitalphotoacademy.com/portfolio/frank-siteman/ Sometimes, quite often as it turns out, great photos are no further from your front door than your front porch.  This image is an example of that.  No need to travel to a distant land or even get in the car to chase light.  I did have to put on a serious coat and go outdoors though, but once there, all I needed was a vision and a camera.  To give this image the feeling of the day, I selected a tungsten color balance, which gave the chilling blue color-cast to the snow.  The contrast between the on-coming car's headlamps and that blueish snow make the vehicle pop from the photo.  I actually enhanced the lights with NIK software, darkening and warming them, and used another NIK filter to add a cool glow to the overall image. One important technical aspect of shooting in the cold and/or snow is to keep your equipment (and yourself) warm and dry.  I made a plastic covering for the camera with an opening just large enough to poke a lens hood through.  When not actually shooting, I kept this opening pinned against my body which prevented any snowflakes from landing on either the camera or the lens. IF I'd stayed out longer, I would have kept the camera under my coat, not just for protection, but to keep the battery warm.  Shooting in the cold can suck the life out of your battery in a very short time.  To address that, I always keep an extra battery in an inside pocket, next to my body, and switch it out with the battery in the camera which is continually chilling as I work.  For extended shoots outdoors, I hold a Hothands Hand Warmer outside the camera's battery compartment.  Along with keeping my battery active, I end up having at least one warm hand as well.  Another win-win. Camera was Canon 5D, ISO 100, 1/60th sec,  24-105 IS lens at f/5.6, shot at 105mm.
---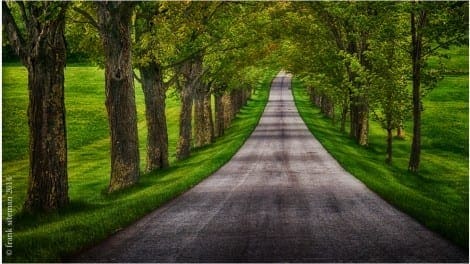 From Frank Siteman/ DPA instructor in Boston To view more of his images please visit http://digitalphotoacademy.com/portfolio/frank-siteman/ In the quest for great images, I've gotten into the habit of taking advantage of the exceptional quality of light in the early morning and late afternoon hours of the day. At this time, the light has a direction and a warmth that only happens when the sun is low on the horizon. I call it chasing light.  To this end, I try to find where the beautiful light is falling and nearly never come back without some image that is exceptional just because it was shot in wonderous light.  I have a friend from New York City who tells me he never has problems parking in the city.  What he does is simple.  He finds a parking spot, takes it and then finds something to do around it.  Chasing light is like that, and what you find around your spot is often magical. This image was taken late in the afternoon in Bethlehem, NH, found while driving down roads I'd never been on before.  It was all discovery.  This tree lined driveway (to what will remain a mysterious destination) is a nearly perfect example of both leading lines and the rule of thirds.  Everything takes your eye into the depths of this image.  The road's curved sides are nearly mirror images of each other as are the trees themselves.  All lines lead to a point 1/3rd down from the top and roughly 1/3rd in from the right.
---