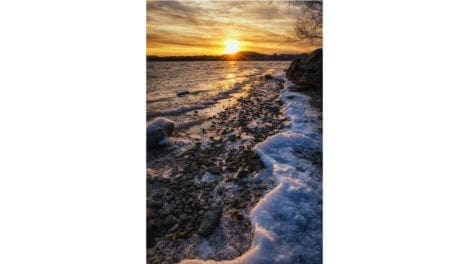 MARK ROSENGARTEN OFFERS BEAUTIFUL IMAGES ACCOMPANIED BY EXCELLENT PHOTO TIPS AND TECHNICAL INSIGHTS As the sun set, a long exposure from the dock while standing in the water: From the Gomez Mill, a 1/2 second exposure to show more detail in the spray: We did get about ten minutes of insane color on the horizon about 20 minutes after sunset: The Gomez Mill: A 2-minute exposure to smooth out the water and sky, done in Bulb mode: Using snow as the leading line into the sunset: Funneled along the inlet: It was wonderful meeting you all and I hope you all got a lot out of it!  Hope to see you again and looking forward to seeing your work here!! Mark Rosengarten
---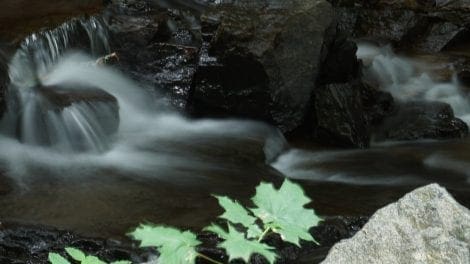 Even in poor lighting conditions, always try. Pixels are free as they say! With Landscape photographer, Greg Miller, Nana Greller was wandering beneath a thick canopy of trees amidst the soft light behind West Point Foundry, Preserve in Cold Springs, NY. It was a rainy Sunday, kind of low light that seemed to show no real promise, wondering of the possibilities for any photo worth keeping. Greg disagreed in regard to the potential and Nana came away with this lovely image, which is actually a fairly anemic waterfall, at least on that day, maybe not so piddly every day. The leaves frame the main subject nicely and the slow shutter speed priority renders a haunting version of the cascading water. Good job Nana.
---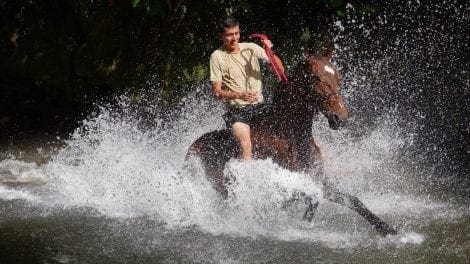 Rick Gerrity, DPA Instructor in NYC and NJ, adding a splash of drama of this man on a horse. The morning light brought it home. 1. Time-Morning Light 2. Place of photo – Costa Rica 3. Name of Photographer and which Digital Photo Academy teacher is in-Rick Gerrity Digital Photo Academy instructor in NYC/NJ 4. f/stop-f 5.6 5. Shutter Speed-1/1600th sec 6.Back story- This image was made while leading a workshop with my business partner DPA Instructor, in Atlanta, Rob Knight in Costa Rica concentrating on freezing motion. 7. Lens- 35-100mm on a Panasonic Lumix GH4 8. How one might succeed with a version of the image if all they had was a cell phone- With a cell phone one may follow subject while pressing the shutter button creating a blurred background. A cell phone may or may not freeze the motion. Panning will ensure a sharp subject. 9. Photographer's Strategy- Teaching the importance of lighting, being patient and getting the shot.. Composition regarding the rule of thirds..
---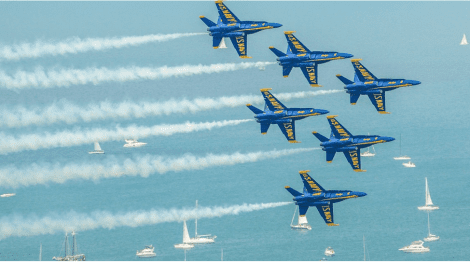 From Don Peters/ DPA Instructor in Chicago To view more of his images please visit http://digitalphotoacademy.com/portfolio/donald-peters/  From my 52nd floor perch on a friend's condo balcony, my senses were filled by the exciting sights and sounds of the famed Navy Blue Angels at the Chicago Air Show.  My high position enabled me to shoot down on the colorful jets, with the bobbing yachts on Lake Michigan providing a pleasing background perspective.  The Blue Angels came by VERY fast, with little warning as they preceded the roar of their engines by a second or two.  So, the challenge was to use not only a very fast shutter speed, but to be ready and to pan the camera in synch with the jets as they streaked by.  Practice makes perfect and it took some adjustment and practice to achieve this shot.  Shooting in the "burst" mode (10 frames per second) also gave me an array of images, from which to choose the best. (Nikon D300 with 28-300mm Nikkor lens at 300mm, ISO 400, 1/4000 at f/4.5)
---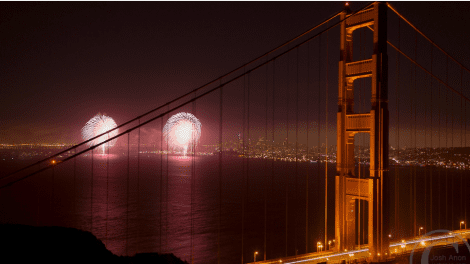 From Josh Anon/ DPA instructor in San Francisco To view more of his images please visit  http://digitalphotoacademy.com/portfolio/josh-anon/ I am a big believer in pre-visualizing photos and then executing them.  Even if your pre-visualization isn't perfect, it gives you purpose and lets you actively plan for a shot instead of reacting to what's around you.  In this case, I knew that for the fourth of July, San Francisco would have a big fireworks show downtown, and the forecast was (unusually) fog-free.  That meant I had a chance to create a unique image of San Francisco, with the Golden Gate Bridge (the most distinctive icon that immediately screams "San Francisco" to a viewer) and fireworks.  I knew of a good spot in the Marin headlands and arrived hours in advance, expecting a crowd and wanting a parking spot.  A lot of photography involves patience!  I framed this shot up before the fireworks started balancing where the bridge is and where I roughly estimated the fireworks would be, based on what I saw in the paper.  To shoot, I put my camera in bulb mode, held a piece of cardboard in front of the lens between fireworks bursts, and exposed each image for 2-3 firework bursts.  While the fireworks are a tad over-exposed, I still like the shot because of how the intense brightness and shapes from the falling embers contrasts with the darkness in the rest of the frame, just like when you see fireworks with your naked eye. Canon EOS 1Ds with Canon EF 16-35 f/2.8L at 35mm on a tripod.  f/5.6, 8 sec, ISO 200.
---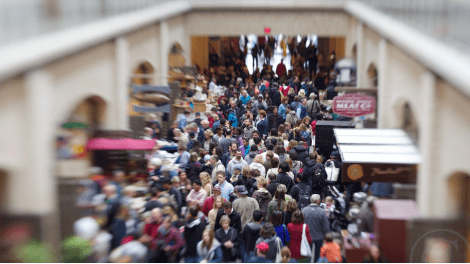 From Josh Anon/ DPA instructor in San Francisco To view more of his images please visit http://digitalphotoacademy.com/portfolio/josh-anon/ A small change in perspective can make a big impact in the photos we create.  The San Francisco Ferry Building is often quite crowded during the Saturday morning farmers market, but when you're down in it the crowd, it's tough to capture the feeling you have of being there.  By finding stairs to a second floor, I was able to find a unique perspective, looking down at the crowd and showing how dense it was.  However, if I just took this with a regular lens, even at a small f-number, the crowd would read as a texture and the photo would lack a subject.  Instead, I used a Lens Baby to bring selective focus to just one part of the crowd, specifically an area squished in the middle of the crowd.  This blurred the crowd in such a way that it didn't read as a texture (some is blurred and some isn't), and it makes it clear that the focus of the photo (pardon the pun) is the crazy crowd.  Additionally, the lines in the wall converge, further brining your attention to the in-focus area. Canon EOS 1D MkIV with Lens Baby Composer.  f/4, 1/60 sec, ISO 400
---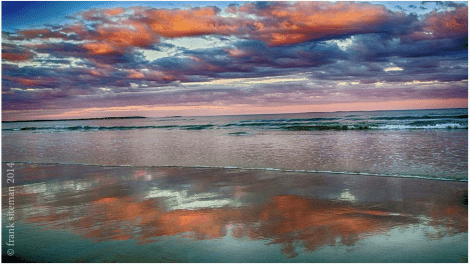 From Frank Siteman/ DPA instructor in Boston To view more of his images please visit  http://digitalphotoacademy.com/portfolio/frank-siteman/ Symmetry, timing and simplicity are the backbone of many stand-out images. This photo was taken while on a casual, end of day walk along the shoreline at Old Orchard Beach in Ogunquit, Maine.  As the sun was setting behind me, only the clouds were being directly illuminated, creating a scene with  an intense, warm-cool  (yellow/blue) color contrast.  Adding to this, was the reflection of the sky on the mirror-like, smooth sand beach, that appeared with each retreating wave, making the timing of the exposure an important factor.  Choosing a wide angle allowed for the inclusion of  the most real estate (keeping both the actual clouds and their reflections on the sand) and enabled me to work with a slowish shutter speed of a 1/15th sec with an aperture  of  f/8.0, holding focus from the foreground to the horizon. This was a situation where breaking the "rule of thirds" allowed for a more dynamic image.   Camera was Canon 5D, ISO 200 and using a 24mm focal length with a 24-105 IS lens.
---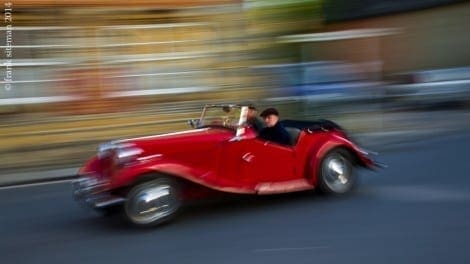 From Frank Siteman/ DPA instructor from Boston View more of his images at http://digitalphotoacademy.com/portfolio/frank-siteman/ The technique used to make this photo is called panning.  It is a very effective means of conveying motion, and can bring amazing energy to a photo. To obtain images like this, one moves the camera with the subject, keeping the main object in the same place, relative to the edge of the frame.  The image of the background sweeps from side to side while the car remains centered….or wherever you've placed it in the frame.  You can check out the intensity of the blur by simple experimentation, moving the camera at different speeds and/or following subjects which move at different velocities.  I like to find a shutter speed which gives me an acceptable and appealing blur and then find an aperture/ISO combination which gives neither an over nor under exposed file, checking your histogram to ensure you are not unnecessarily blowing out important detail. Digital photography makes taking pann shots relatively simple, as it gives you the means to adjust your settings to meet whatever situations you encounter and provide you with an instant preview. In this instance, I was in the small village of Lyme Regis in England and saw this red coupe coming towards me at a relatively slow speed.  In order to show it's motion, I knew from experience that I would be able to get the results I wanted by setting my camera to it's shutter priority mode and to a 1/15th of a second.   If the car had been traveling slower, I might have used a 1/8th sec exposure. This technique is wonderfully effective when shooting runners, people biking, dogs running or even kids playing soccer.  The important thing is to find the shutter speed which works for your particular situation and then work around that setting.
---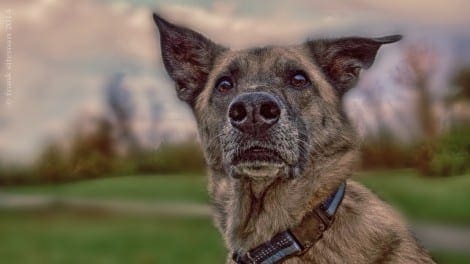 From Frank Siteman/ DPA instructor in Boston To view more of his images please visit: http://digitalphotoacademy.com/portfolio/frank-siteman/ I don't think I've ever gone out shooting when I haven't met a dog worthy of having it's photo taken.  One technique which nearly always works is to get down to the dog's level.  This isn't to say that other unique angles won't work, but what makes this particular image stand out is that "in your face" factor that you get when looking slightly up at him. I used a relatively short (24mm) lens and came in as close as I could, without altering the situation.  In doing so, I accentuated the nose and diminished the relative size of the ears.  I felt that this gave a slightly goofy, yet pleasing, feel to the photo. Significant post production work included a NIK HDR application in conjunction with silhouetting the dog and treating the background as a separate entity. I was obviously not going for reality here, but rather a hyper-reality. To that end, I blurred an already out of focus background, while significantly sharpening the dog, except for areas (eyes, muzzle and nose) which wanted to remain crisp. When shooting animals, it's always helpful to have their person, as well as a helper, around.  The owner can get his pet's attention and your helper can hold a fill card for you.  It's important that the fill card, or reflector, does not alarm the animal however, and I've found that with some animals it's best to use a bright reflector which works from greater distances.
---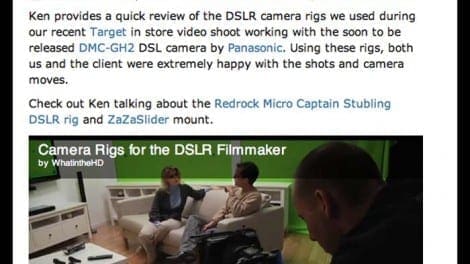 Digital Photo Academy and LivinginHD present a free monthly series of photography webinars on LivinginHD.com. Your host, John Bentham answers many questions live during the webinars. Additional questions, answers and tips are posted here on digitalphotoacademy.com where you can also view the archived webinars. I get a number of inquiries from students who are moving into DSLR Video shooting (shooting HD Video on a DSLR camera). Obviously for quick, down and dirty video you only need a video capable camera. But once you dive in, you should learn a few tricks and you will covet a few gadgets. Number one for many of budding film makers is some type of balancer, bracket or video rig, referred to as a stabilization rig. A number of these are available and specifically made for shooting video with DSLR cameras. I have a few friends who use Redrock rigs, these however can be quite expensive. Batteries and Memory Cards: The couple other very important tips for DSLR filmmaking are batteries and memory cards. Batteries will wear down very quickly when shooting video. Unlike in still photography where the viewing screen only lights upo when you take a photo, or you review a photo, with video shooting you utilize the electronic screen for framing and composing while you are filming. This can drain battery power. Thus if you're serious about video filmmaking I recommend at least one and preferably two, spare batteries. The same principle applies to memory capacity (memory cards). The camera uses significantly more memory to record video than to capture still photographs. A working average for HD recording is approx 7 minutes of video for each MB of storage. Thus if you want to shoot 45 minutes of HD video you require approx 6.4 MB of storage. You can use a number of 2 –4 MB cards but bear in mind if the video you're shooting is a continuous take you need a large enough card to record the whole segment. Alternatively, or in a pinch you can reduce the HD quality of the recording to boost the record time, but that seems to go against the whole point in purchasing a good HD camera. Camera Rigs for the DSLR Filmmaker: Ken Fleischer is a filmmaker, video guru and owner/CEO at dMWorks (dmworks.com). As Video Expert for Panasonic Living in HD ken uses DSLR cameras for some of his work. Check out this great link from the dMWorks blog, where Ken Ken tests the new Panasonic GH2 and describes the different options for camera support. Camera Rigs for the DSLR Filmmaker link: http://www.dmworks.com/blog/?p=1915 AVCHD Conversion Workflow: Ken Fleischer has also helpfully provided a workflow for converting video files below. With an AVCHD camera, the normal workflow would have two steps. 1) Make an archive copy of the original AVCHD that preserves all the  camera specific info. Then, you have an original copy of the contents of  your camera that you can mount anytime as if it were a camera.  You must have the entire directory structure of the camera - even  the empty folders. If you only have the mts files, you cannot open. Programs like iMovie or Roxio make it easy to create this archive copy on their import or copy/convert screens. 2) Then, you import the AVCHD files directly into your editing program, like iMovie for Mac or Roxio for PC. You can either import  directly from the camera, or directly from an SDHC card, or you can import from the archive. When you do this, the highly compressed AVCHD  is converted to Quicktime or AVI for editing. Having said that, if all you have are the MTS files, you could convert  them yourself with a third party tool like Voltaic HD. Voltaic is not  free, but you might be able to get an evaluation copy. Also for you reference, After you′ve edited or just trimmed your video; I′d recommend the following settings for HD video on the LivinginHD.com site... Compression: H.264 Resolution: 1280x720 Frame Rate: (Same as the original footage) Data Rate: 4000 (You may need to adjust this number depending on final file size. For audio you can just us AC3 at 44.1 or 48 KHz 16bit Stereo. Video Capable Panasonic DSLR Cameras: Following is an outline of the various Panasonic DSLR video camera. All are Micro 4/3 System, with 2 x Lens Factor GH2 is 16MP, All other models are 12MP LIVEMOS Sensor Sensor Size = 17.3 x 13mm All will shoot RAW Still mode All lenses are interchangeable, Optional lenses below Panasonic G2 W 14-42mm lens (= 28-84mm) HD Lite Video (720P) Articulated LCD Screen Touch Screen Controls Panasonic GH1 Kit  14 – 140mm (= 28 – 280mm), f4-5.8 Has Full HD Video (1080P) Electronic Viewfinder Articulated LCD Screen Stereo Mic AND External Stereo Mic input Panasonic GH2 – 16MP in kit, choice of Kit w 14 – 140mm lens (= 28–280mm), f4-5.8, or Kit w 14 - 42mm lens (= 28-84mm) f3.5 –5.6 Has Full HD Video (1080P) Electronic Viewfinder Articulated LCD Screen Stereo Mic AND External Stereo Mic input Touch Screen Controls Panasonic GF1 Kit Sold as kit, w choice of lens: 20mm f1.7 Pancake, (= 40mm), or 14-45mm Standard (= 28-90mm), f3.5 –5.6 Has HD Lite Video (720P) Ships w/o Viewfinder (Optional Electronic Viewfinder available) NO Articulated LCD Screen MONO Mic, NO External Mic input Panasonic GF2 with 14mm F2.5 Lens Kit Or Panasonic 14 - 42mm Zoom Lens Kit. With touch-screen control. It is built around a 12MP CMOS sensor but with a more powerful processor than its predecessor, allowing AVCHD video recording of 1080i60 movies from 1080p30 capture. Significantly smaller and lighter than the GF1. NO Articulated LCD Screen Additional/Optional Panasonic Lenses (2 X Factor) Lenses have OIS (Optical Image Stabilization) except as noted below Focal Length / 135mm Equivalent Focal Length (2x Factor) / Max Aperture 14mm Pancake (= 28mm), F2.5 20mm Pancake (= 40mm), f1.7, NO OIS 14-45mm Standard (= 28-90mm), f3.5 –5.6, OIS 14-42mm Standard (= 28-84mm), f3.5 –5.6, W G2 Kit 7 – 14mm (= 14 – 28), f4, NO OIS 45mm (= 90mm Prime Macro, f2.8, NO OIS 14 – 140mm (= 28 – 280mm), f4-5.8, OIS 45 – 200mm (= 90 – 400mm), f4 – 5.6, OIS 8mm Fisheye Lens (= 16mm) Prime, f3.5, NO OIS 3D lens LUMIX G 12.5mm, F12. Only for 3D compatible models. Webinar Submission Specs: All DPA students can submit photographs for inclusion in the Digital Photo Academy, LiHD Webinar, Online Photo Class Series. If you would like to submit your photographs for an upcoming webinar, read the following. Each webinar has a specific theme or topic. You can see the date and topic of the next webinar at LivinginHD.com, Tip of the Day, Online Photo Class. Note that webinars are edited and formatted days in advance, thus please submit your photos at least a week in advance of the webinar, late submissions can not be added. Photographs are chosen, and edited, for their applicability to the webinar theme, artistic and technical merit, and content length. If your photograph is NOT chosen, it will be archived and may appear in a more appropriate future webinar. Submit your photographs to info@digitalphotoacademy.com By submitting your photographs for consideration, you grant and authorize, The Digital Photo Academy, LivinginHD.com and Panasonic, the following rights: The right to use your photographs in the content and promotion of the webinar series, and for use on each company's respective website. You further authorize your photographs may be archived online and/or in a database, and allow unrestricted internet availability of any webinars containing your photographs. You further authorize the use of your photographs in any future webinars. By voluntarily submitting your photographs for consideration you agree to the aforementioned without any legal claims, or claims for remuneration, whatsoever. You, as the photographer, retain the copyright © of any submitted photographs. The aforementioned companies will make best possible efforts to apply proper photo credit and acknowledgement with your photograph whenever possible and practical.
---